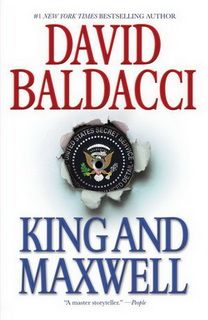 King & Maxwell (Sean King And Michelle Maxwell 06) by David Baldacci
'He was the only one in the room who could see it. His attention stayed there for one beat, two beats, three beats, far too long. Yet who could blame him for not being able to pull his gaze away from that?'
When something distracts Secret Agent Sean King for a split second, it costs him his career and presidential candidate Clyde Ritter his life. But what stole his attention? And why was Ritter shot?
Eight years later Michelle Maxwell is on the fast track through the ranks of the Secret Service when her career is stopped short: presidential candidate, John Bruno, is abducted from a funeral home while under her protection.
The similarity between the two cases drives Michelle to reopen investigations into the Ritter fiasco and join forces with attractive ex-agent King. The pair are determined to get to the bottom of what happened in those critical moments. Meanwhile, high-ranking members of the legal system and key witnesses from both cases are going missing. King is losing friends, colleagues and clients fast and his ex-lover, Joan Dillinger is playing curious games–she wants Sean back, but she also owes him for something...
Baldacci never misses a beat. He has created a labyrinthine plot that winds its way through the dark passages of America's legal underworld.
Book Formats:
EPUB
The format can be read by the Kobo eReader, BlackBerry devices, Apple's iBooks app running on Macintosh computers and iOS devices, Google Play Books app running on Android and iOS devices, Barnes & Noble Nook, Amazon Kindle Fire,Sony Reader, BeBook, Bookeen Cybook Gen3 (with firmware v2 and up), Adobe Digital Editions, Lexcycle Stanza, FBReader, PocketBook eReader, Aldiko, the Mozilla Firefox add-on EPUBReader, Lucifox, Okular and other reading apps.
MOBI
Amazon Kindle and compatible devices.The Kindle format is available on a variety of platforms, such as through the Kindle app for the various mobile device platforms.
Stock:

In Stock

Reward Points:

1

SKU:

BLDDD16

ISBN:

9780575077829
Baldacci David
0 books sold
Product Views: 535
Ex Tax: 0.99€
Price in reward points: 20