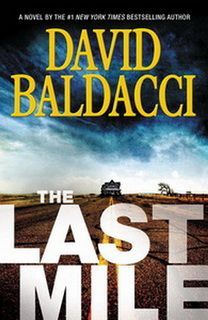 Hot
The Last Mile (Amos Decker 02) by David Baldacci
Convicted murderer Melvin Mars is counting down the last hours before his execution-for the violent killing of his parents twenty years earlier-when he's granted an unexpected reprieve. Another man has confessed to the crime.
Amos Decker, newly hired on an FBI special task force, takes an interest in Mars's case after discovering the striking similarities to his own life: Both men were talented football players with promising careers cut short by tragedy. Both men's families were brutally murdered. And in both cases, another suspect came forward, years after the killing, to confess to the crime. A suspect who may or may not have been telling the truth.
The confession has the potential to make Melvin Mars-guilty or not-a free man. Who wants Mars out of prison? And why now?
But when a member of Decker's team disappears, it becomes clear that something much larger-and more sinister-than just one convicted criminal's life hangs in the balance. Decker will need all of his extraordinary brainpower to stop an innocent man from being executed.
Book Formats:
EPUB
The format can be read by the Kobo eReader, BlackBerry devices, Apple's iBooks app running on Macintosh computers and iOS devices, Google Play Books app running on Android and iOS devices, Barnes & Noble Nook, Amazon Kindle Fire,Sony Reader, BeBook, Bookeen Cybook Gen3 (with firmware v2 and up), Adobe Digital Editions, Lexcycle Stanza, FBReader, PocketBook eReader, Aldiko, the Mozilla Firefox add-on EPUBReader, Lucifox, Okular and other reading apps.
MOBI
Amazon Kindle and compatible devices.The Kindle format is available on a variety of platforms, such as through the Kindle app for the various mobile device platforms.
Stock:

In Stock

Reward Points:

1

SKU:

BLDDD2

ISBN:

9781588367167
Baldacci David
2 books sold
Product Views: 501
Ex Tax: 0.99€
Price in reward points: 20