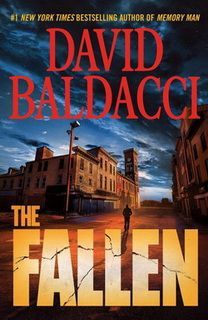 Hot
The Fallen (Amos Decker 04) by David Baldacci
David Baldacci returns with the next blockbuster thriller in his #1 New York Times bestselling Memory Man series featuring detective Amos Decker-the man who can forget nothing.
Amos Decker and his journalist friend Alex Jamison are visiting the home of Alex's sister in Barronville, a small town in western Pennsylvania that has been hit hard economically. When Decker is out on the rear deck of the house talking with Alex's niece, a precocious eight-year-old, he notices flickering lights and then a spark of flame in the window of the house across the way. When he goes to investigate he finds two dead bodies inside and it's not clear how either man died. But this is only the tip of the iceberg. There's something going on in Barronville that might be the canary in the coal mine for the rest of the country.
Faced with a stonewalling local police force, and roadblocks put up by unseen forces, Decker and Jamison must pull out all the stops to solve the case. And even Decker's infallible memory may not be enough to save them.
Book Formats:
EPUB
The format can be read by the Kobo eReader, BlackBerry devices, Apple's iBooks app running on Macintosh computers and iOS devices, Google Play Books app running on Android and iOS devices, Barnes & Noble Nook, Amazon Kindle Fire,Sony Reader, BeBook, Bookeen Cybook Gen3 (with firmware v2 and up), Adobe Digital Editions, Lexcycle Stanza, FBReader, PocketBook eReader, Aldiko, the Mozilla Firefox add-on EPUBReader, Lucifox, Okular and other reading apps.
MOBI
Amazon Kindle and compatible devices.The Kindle format is available on a variety of platforms, such as through the Kindle app for the various mobile device platforms.
Stock:

In Stock

Reward Points:

1

SKU:

BLDDD4

ISBN:

9780698136885
Baldacci David
3 books sold
Product Views: 878
Ex Tax: 0.99€
Price in reward points: 20