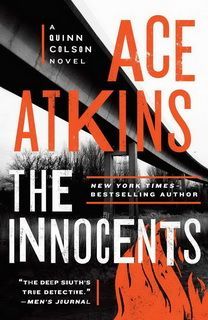 The Innocents (Quinn Colson 06) by Ace Atkins
From New York Times-bestselling Southern crime master Ace Atkins comes a gritty, darkly comic tale of greed, violence, and unexpected redemption.

Quinn Colson didn't owe his home town of Jericho, Mississippi, a damn thing. After serving for more than a decade as a U.S. Army Ranger, he'd returned, been elected sheriff, and tried to make the town and surrounding Tibbehah county a better place. He was rewarded with being voted out of office, and went back to the war zone he'd left.
Now, back in Jericho, trying to fix things with his still-married high school girlfriend and retired Hollywood stuntman father, he's drawn to becoming a lawman again. This time, he accepts a badge from acting Sheriff Lillie Virgil, a foul-mouthed law woman with shades of Calamity Jane. But what they must confront together is something brand-new.
When a former high school cheerleader is found walking a back road completely engulfed in flames, the entire state focuses on the rural county, wanting answers. The light soon shines on several people: the girl's father, a worthless drunk named Wash Jones; a pair of teenage thugs with grand ambitions to control north Mississippi; and a red-headed truck stop madam named Fannie Hathcock, who has her own problems – the Syndicate from down on the Gulf Coast has big plans for her neck of the woods.
As Quinn and Lillie uncover old secrets and new lies, the entire town turns against them, and they learn the most dangerous enemies may be the ones you trust most.
Ace Atkins "sets a new standard for Southern crime fiction," writes The New York Times Book Review– and, with The Innocents, he sets it again.
Book Formats:
EPUB
The format can be read by the Kobo eReader, BlackBerry devices, Apple's iBooks app running on Macintosh computers and iOS devices, Google Play Books app running on Android and iOS devices, Barnes & Noble Nook, Amazon Kindle Fire,Sony Reader, BeBook, Bookeen Cybook Gen3 (with firmware v2 and up), Adobe Digital Editions, Lexcycle Stanza, FBReader, PocketBook eReader, Aldiko, the Mozilla Firefox add-on EPUBReader, Lucifox, Okular and other reading apps.
MOBI
Amazon Kindle and compatible devices.The Kindle format is available on a variety of platforms, such as through the Kindle app for the various mobile device platforms.
Stock:

In Stock

Reward Points:

1

SKU:

ATKACE06

ISBN:

9780143171119
Atkins Ace
0 books sold
Product Views: 421
Ex Tax: 0.99€
Price in reward points: 20