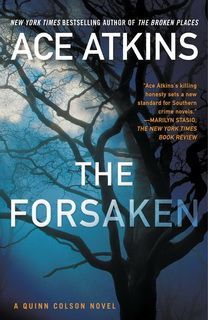 The Forsaken (Quinn Colson 04) by Ace Atkins
The extraordinary new novel in New York Times-bestselling author Ace Atkins' acclaimed series about the real Deep South—"a joy ride into the heart of darkness" (The Washington Post).
Thirty-six years ago, a nameless black man wandered into Jericho, Mississippi, with nothing but the clothes on his back and a pair of paratrooper boots. Less than two days later, he was accused of rape and murder, hunted down by a self-appointed posse, and lynched.
Now evidence has surfaced of his innocence, and county sheriff Quinn Colson sets out not only to identify the stranger's remains, but to charge those responsible for the lynching. As he starts to uncover old lies and dirty secrets, though, he runs up against fierce opposition from those with the most to lose—and they can play dirty themselves.
Soon Colson will find himself accused of terrible crimes, and the worst part is, the accusations just might stick. As the two investigations come to a head, it is anybody's guess who will prevail—or even come out of it alive.
Book Formats:
EPUB
The format can be read by the Kobo eReader, BlackBerry devices, Apple's iBooks app running on Macintosh computers and iOS devices, Google Play Books app running on Android and iOS devices, Barnes & Noble Nook, Amazon Kindle Fire,Sony Reader, BeBook, Bookeen Cybook Gen3 (with firmware v2 and up), Adobe Digital Editions, Lexcycle Stanza, FBReader, PocketBook eReader, Aldiko, the Mozilla Firefox add-on EPUBReader, Lucifox, Okular and other reading apps.
MOBI
Amazon Kindle and compatible devices.The Kindle format is available on a variety of platforms, such as through the Kindle app for the various mobile device platforms.
Stock:

In Stock

Reward Points:

1

SKU:

ATKACE04

ISBN:

9780399161797
Atkins Ace
0 books sold
Product Views: 459
Ex Tax: 0.99€
Price in reward points: 20