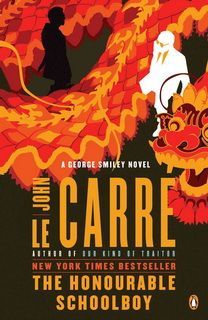 Hot
The Honorable Schoolboy (George Smiley 06) by John le Carré
John le Carré's classic novels deftly navigate readers through the intricate shadow worlds of international espionage with unsurpassed skill and knowledge and have earned him - and his hero, British Secret Service agent George Smiley - unprecedented worldwide acclaim. In this classic masterwork, le Carré expands upon his extraordinary vision of a secret world as George Smiley goes on the attack. In the wake of a demoralizing infiltration by a Soviet double agent, Smiley has been made ringmaster of the Circus (aka the British Secret Service). Determined to restore the organization's health and reputation, and bent on revenge, Smiley thrusts his own handpicked operative into action. Jerry Westerby, "The Honourable Schoolboy," is dispatched to the Far East. A burial ground of French, British, and American colonial cultures, the region is a fabled testing ground of patriotic allegiances?and a new showdown is about to begin.
Book Formats:
EPUB
The format can be read by the Kobo eReader, BlackBerry devices, Apple's iBooks app running on Macintosh computers and iOS devices, Google Play Books app running on Android and iOS devices, Barnes & Noble Nook, Amazon Kindle Fire,Sony Reader, BeBook, Bookeen Cybook Gen3 (with firmware v2 and up), Adobe Digital Editions, Lexcycle Stanza, FBReader, PocketBook eReader, Aldiko, the Mozilla Firefox add-on EPUBReader, Lucifox, Okular and other reading apps.
MOBI
Amazon Kindle and compatible devices.The Kindle format is available on a variety of platforms, such as through the Kindle app for the various mobile device platforms.
Stock:

In Stock

Reward Points:

1

SKU:

LCRRJ22

ISBN:

9780143056737
le Carré John
1 books sold
Product Views: 561
Ex Tax: 0.99€
Price in reward points: 20