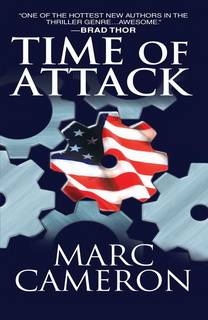 Time of Attack (Jericho Quinn 04) by Marc Cameron
Special Agent Jericho Quinn faces off against an elite group of terrorist assassins and a strange plaque of disease outbreaks.
Special agent Jericho Quinn, hell bent on finding the sniper who attacked his family, steps into an even bigger, and deadlier, conspiracy: a secret cabal of elite assassins embedded throughout the globe. Infecting the very fabric of the free world. Exterminating targets with cold, silent precision. For Quinn, it's as insidious as the virus that claims new victims each day - and he plans to wipe it off the face of the earth...
Book Formats:
EPUB
The format can be read by the Kobo eReader, BlackBerry devices, Apple's iBooks app running on Macintosh computers and iOS devices, Google Play Books app running on Android and iOS devices, Barnes & Noble Nook, Amazon Kindle Fire,Sony Reader, BeBook, Bookeen Cybook Gen3 (with firmware v2 and up), Adobe Digital Editions, Lexcycle Stanza, FBReader, PocketBook eReader, Aldiko, the Mozilla Firefox add-on EPUBReader, Lucifox, Okular and other reading apps.
MOBI
Amazon Kindle and compatible devices.The Kindle format is available on a variety of platforms, such as through the Kindle app for the various mobile device platforms.
Stock:

In Stock

Reward Points:

1

SKU:

CRNMC04

ISBN:

9780786031832

Cameron Marc
0 books sold
Product Views: 353
Ex Tax: 0.99€
Price in reward points: 20