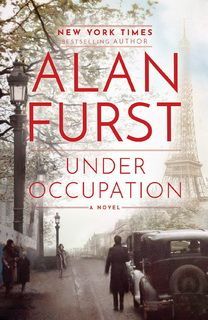 Under Occupation (Night Soldiers 15) by Alan Furst
From "America's preeminent spy novelist" ( The New York Times ) comes a fast-paced, mesmerizing thriller of the French resistance fighters working secretly and bravely to defeat Hitler.
Occupied Paris, 1942. Just before he dies, a man being chased by the Gestapo hands off a strange-looking document to the unsuspecting novelist Paul Ricard. It looks like a blueprint of a part for a military weapon, one that might have important information for the Allied forces. Ricard realizes he must try to get the diagram into the hands of members of the resistance network.
As Ricard finds himself drawn deeper and deeper into anti-Nazi efforts and increasingly dangerous espionage assignments, he travels to Germany and along the escape routes of underground resistance safe houses to spy on Nazi maneuvers. When he meets the mysterious and beautiful Leila, a professional spy, they begin to work together to get crucial information out of France and into the hands of the Allied forces in London.
Book Formats:
EPUB
The format can be read by the Kobo eReader, BlackBerry devices, Apple's iBooks app running on Macintosh computers and iOS devices, Google Play Books app running on Android and iOS devices, Barnes & Noble Nook, Amazon Kindle Fire,Sony Reader, BeBook, Bookeen Cybook Gen3 (with firmware v2 and up), Adobe Digital Editions, Lexcycle Stanza, FBReader, PocketBook eReader, Aldiko, the Mozilla Firefox add-on EPUBReader, Lucifox, Okular and other reading apps.
MOBI
Amazon Kindle and compatible devices.The Kindle format is available on a variety of platforms, such as through the Kindle app for the various mobile device platforms.
Stock:

In Stock

Reward Points:

1

SKU:

FURSTA06

ISBN:

9781474610575
Furst Alan
0 books sold
Product Views: 829
Ex Tax: 0.99€
Price in reward points: 20