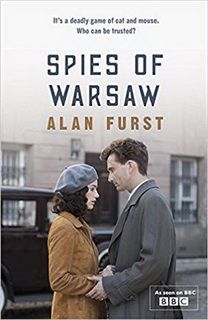 The Spies of Warsaw (Night Soldiers 10) by Alan Furst
An autumn evening in 1937. A German engineer arrives at the Warsaw railway station. Tonight, he will be with his Polish mistress; tomorrow, at a workers' bar in the city's factory district, he will meet with the military attaché from the French embassy. Information will be exchanged for money. So begins The Spies of Warsaw, the brilliant new novel by Alan Furst, lauded by The New York Times as "America's preeminent spy novelist."
War is coming to Europe. French and German intelligence operatives are locked in a life-and-death struggle on the espionage battlefield. At the French embassy, the new military attaché, Colonel Jean-Francois Mercier, a decorated hero of the 1914 war, is drawn into a world of abduction, betrayal, and intrigue in the diplomatic salons and back alleys of Warsaw. At the same time, the handsome aristocrat finds himself in a passionate love affair with a Parisian woman of Polish heritage, a lawyer for the League of Nations.
Colonel Mercier must work in the shadows, amid an extraordinary cast of venal and dangerous characters–Colonel Anton Vyborg of Polish military intelligence; the mysterious and sophisticated Dr. Lapp, senior German Abwehr officer in Warsaw; Malka and Viktor Rozen, at work for the Russian secret service; and Mercier's brutal and vindictive opponent, Major August Voss of SS counterintelligence. And there are many more, some known to Mercier as spies, some never to be revealed.
The Houston Chronicle has described Furst as "the greatest living writer of espionage fiction." The Spies of Warsaw is his finest novel to date–the history precise, the writing evocative and powerful, more a novel about spies than a spy novel, exciting, atmospheric, erotic, and impossible to put down.
Book Formats:
EPUB
The format can be read by the Kobo eReader, BlackBerry devices, Apple's iBooks app running on Macintosh computers and iOS devices, Google Play Books app running on Android and iOS devices, Barnes & Noble Nook, Amazon Kindle Fire,Sony Reader, BeBook, Bookeen Cybook Gen3 (with firmware v2 and up), Adobe Digital Editions, Lexcycle Stanza, FBReader, PocketBook eReader, Aldiko, the Mozilla Firefox add-on EPUBReader, Lucifox, Okular and other reading apps.
MOBI
Amazon Kindle and compatible devices.The Kindle format is available on a variety of platforms, such as through the Kindle app for the various mobile device platforms.
Stock:

In Stock

Reward Points:

1

SKU:

FURSTA01

ISBN:

9781588367167
Furst Alan
0 books sold
Product Views: 407
Ex Tax: 0.99€
Price in reward points: 20