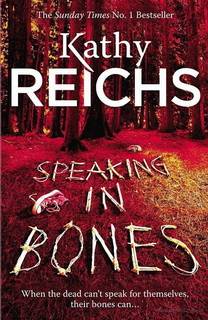 Speaking in Bones (Temperance Brennan 18) by Kathy Reichs
The compelling new Dr Temperance Brennan novel from the world-class forensic anthropologist and Number 1 bestselling author Kathy Reichs.
When forensic anthropologist Dr Tempe Brennan is approached by amateur detective Hazel 'Lucky' Strike, at first she is inclined to dismiss the woman's claims that she's matched a previously unidentified set of remains with a name.
But as the words of a terrified young woman echo round her office from an audio recorder found near where the bones were discovered, something about the story won't let Tempe go.
As Tempe investigates further she finds herself involved in a case more complicated and horrifying than she could ever have imagined.
Book Formats:
EPUB
The format can be read by the Kobo eReader, BlackBerry devices, Apple's iBooks app running on Macintosh computers and iOS devices, Google Play Books app running on Android and iOS devices, Barnes & Noble Nook, Amazon Kindle Fire,Sony Reader, BeBook, Bookeen Cybook Gen3 (with firmware v2 and up), Adobe Digital Editions, Lexcycle Stanza, FBReader, PocketBook eReader, Aldiko, the Mozilla Firefox add-on EPUBReader, Lucifox, Okular and other reading apps.
MOBI
Amazon Kindle and compatible devices.The Kindle format is available on a variety of platforms, such as through the Kindle app for the various mobile device platforms.
Stock:

In Stock

Reward Points:

1

SKU:

RCHSK01

ISBN:

9781448184996
Reichs Kathy
0 books sold
Product Views: 605
Ex Tax: 0.99€
Price in reward points: 20