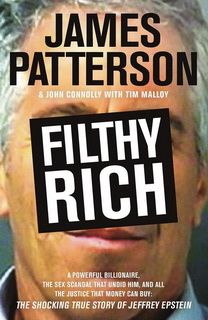 Hot
Filthy Rich by James Patterson and John Connolly
A terrific true crime story of money, power, and sex from the world's most popular thriller writers James Patterson and John Connolly.
A #1 Netflix documentary series now !
Jeffrey Epstein rose from modest origins to the rarefied heights of New York City's financial elite. A college dropout with an instinct for numbers-and for people-Epstein amassed his wealth through a combination of access and skill. But even after he had it all, Epstein wanted more. And that unceasing desire-especially a taste for young girls-resulted in his stunning fall from grace. From Epstein himself, to the girls he employed as masseuses at his home, to the cops investigating the terrible charges against him, FILTHY RICH examines all sides of a case that scandalized one of America's richest communities.
An explosive true story, FILTHY RICH is a riveting account of wealth, power and the influence they bring to bear on the American justice system.
Book Formats:
EPUB
The format can be read by the Kobo eReader, BlackBerry devices, Apple's iBooks app running on Macintosh computers and iOS devices, Google Play Books app running on Android and iOS devices, Barnes & Noble Nook, Amazon Kindle Fire,Sony Reader, BeBook, Bookeen Cybook Gen3 (with firmware v2 and up), Adobe Digital Editions, Lexcycle Stanza, FBReader, PocketBook eReader, Aldiko, the Mozilla Firefox add-on EPUBReader, Lucifox, Okular and other reading apps.
MOBI
Amazon Kindle and compatible devices.The Kindle format is available on a variety of platforms, such as through the Kindle app for the various mobile device platforms.
Stock:

In Stock

Reward Points:

1

SKU:

PTRJMS19

ISBN:

9780316274050

Patterson James
3 books sold
Product Views: 624
Ex Tax: 0.99€
Price in reward points: 20