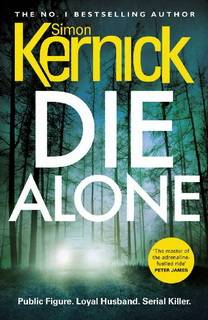 Hot
Die Alone (The Bone Field 03) by Simon Kernick
Alastair Sheridan has it all. Wealth, good looks, a beautiful wife and children and, in the chaotic world of British politics, a real chance of becoming Prime Minister.
But Alastair also has a secret. He's a serial killer with a taste for young women.
Only a handful of people know what kind of monster he is, and disgraced detective Ray Mason is one of them.
Awaiting trial for murder, Ray is unexpectedly broken free by armed men and given an offer: assassinate Alastair Sheridan and begin a new life abroad with a new identity. The men claim to be from MI6. They say that Sheridan is a threat to national security and needs to be neutralised. Ray knows they are not who they say they are, and that their real motives are far darker.
The only person Ray trusts is ex-cop and former lover Tina Boyd, who's keen to settle her own scores with Sheridan.
With enemies on every side, only one thing is certain.
No one wants them to get out alive.
Book Formats:
EPUB
The format can be read by the Kobo eReader, BlackBerry devices, Apple's iBooks app running on Macintosh computers and iOS devices, Google Play Books app running on Android and iOS devices, Barnes & Noble Nook, Amazon Kindle Fire,Sony Reader, BeBook, Bookeen Cybook Gen3 (with firmware v2 and up), Adobe Digital Editions, Lexcycle Stanza, FBReader, PocketBook eReader, Aldiko, the Mozilla Firefox add-on EPUBReader, Lucifox, Okular and other reading apps.
MOBI
Amazon Kindle and compatible devices.The Kindle format is available on a variety of platforms, such as through the Kindle app for the various mobile device platforms.
Stock:

In Stock

Reward Points:

1

SKU:

KCKSN03

ISBN:

9781473535220
Kernick Simon
2 books sold
Product Views: 674
Ex Tax: 0.99€
Price in reward points: 20