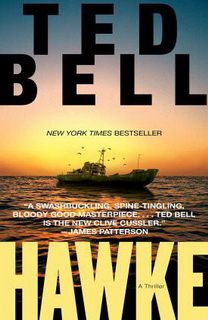 Hot
Hawke (Alexander Hawke 01) by Ted Bell
"Hawke is a fast-paced adventure...truly an exciting read," says Nelson DeMille. "Rich, spellbinding, and absorbing, Hawke is packed with surprises," raves Clive Cussler. Readers beware, this stunning, high-caliber thriller is not recommended for the faint of heart.
Lord Alexander Hawke is a direct descendant of the legendary English pirate Blackhawke and highly skilled in the cutthroat's deadly ways himself. While still a boy, on a voyage to the Caribbean, Alex Hawke witnesses an act of unspeakable horror. Hidden in a secret compartment on his father's yacht, Alex sees his parents brutally murdered by three modern-day pirates. It is an event that will haunt him for the remainder of his life. Now, fully grown and one of England's most decorated naval heroes, Hawke is back in the same Caribbean waters on a secret mission for the American government.
A highly experimental stealth submarine, built by the Soviets just before the end of the Cold War, is missing. She carries forty nuclear warheads and is believed to be in the hands of a very unstable government just ninety miles from the American mainland. Hawke is in a race against time. His mission: Find the deadly sub before a preemptive strike can be launched against the U.S., and confront the murderous men behind the personal nightmare that haunts him before they find him first.
Featuring breathtaking action, international intrigue, and a hero worthy of the very finest adventure fiction, Hawke heralds the exciting debut of a bold new talent.
Book Formats:
EPUB
The format can be read by the Kobo eReader, BlackBerry devices, Apple's iBooks app running on Macintosh computers and iOS devices, Google Play Books app running on Android and iOS devices, Barnes & Noble Nook, Amazon Kindle Fire,Sony Reader, BeBook, Bookeen Cybook Gen3 (with firmware v2 and up), Adobe Digital Editions, Lexcycle Stanza, FBReader, PocketBook eReader, Aldiko, the Mozilla Firefox add-on EPUBReader, Lucifox, Okular and other reading apps.
MOBI
Amazon Kindle and compatible devices.The Kindle format is available on a variety of platforms, such as through the Kindle app for the various mobile device platforms.
Stock:

In Stock

Reward Points:

1

SKU:

BLLTD01

ISBN:

9780743490429
Bell Ted
1 books sold
Product Views: 580
Ex Tax: 0.99€
Price in reward points: 20