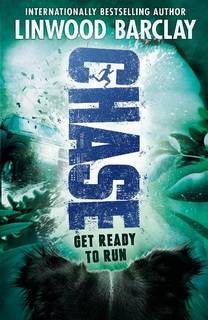 Chase (Chase 01) by Linwood Barclay
The Incredible Journey meets Gordon Korman's On the Run in this exciting middle-grade thriller.
Chipper is a very special dog. He's part of a multi-million dollar experiment at a secret organization known only as The Institute. The Institute has been experimenting with dogs, melding them with state-of-the-art computer technology. But there's a problem with Chipper. His natural dog instincts often overrule his computer side. No matter what he's doing, if he sees a squirrel or a mouse, he'll drop everything to chase it. So The Institute has decided it's time to pull the plug on Chipper. Chipper manages a daring escape with a destination in mind, but a team from the Institute, led by the cold-hearted Daggert, is hot on his heels.
Twelve-year-old Jeff Conroy lives with his aunt and helps run her business, a lakeside cabin-rental operation that caters to fishermen. Jeff desperately misses his parents, who were killed in a plane crash a year earlier. But at least he's made one friend: Emily, whose ex-cop father owns a similar business down the lake. And Emily, a computer whiz, has the coolest fort ever: a trackless, abandoned train station in the middle of the forest.
After eluding his would-be captors, Chipper boards a bus and ends up in the country, only to be hit by a truck that Jeff is driving (underage). Jeff takes Chipper to the train station to nurse him back to health, and it's here that he and Emily discover a computer port in Chipper's collar, and once Emily hooks her laptop to it, she and Jeff discovers that Chipper's arrival is not random. He has been looking for Jeff - and now so is Daggert ...
Book Formats:
EPUB
The format can be read by the Kobo eReader, BlackBerry devices, Apple's iBooks app running on Macintosh computers and iOS devices, Google Play Books app running on Android and iOS devices, Barnes & Noble Nook, Amazon Kindle Fire,Sony Reader, BeBook, Bookeen Cybook Gen3 (with firmware v2 and up), Adobe Digital Editions, Lexcycle Stanza, FBReader, PocketBook eReader, Aldiko, the Mozilla Firefox add-on EPUBReader, Lucifox, Okular and other reading apps.
MOBI
Amazon Kindle and compatible devices.The Kindle format is available on a variety of platforms, such as through the Kindle app for the various mobile device platforms.
Stock:

In Stock

Reward Points:

1

SKU:

BRCLWD01

ISBN:

9780143198758
Barclay Linwood
0 books sold
Product Views: 495
Ex Tax: 0.99€
Price in reward points: 20