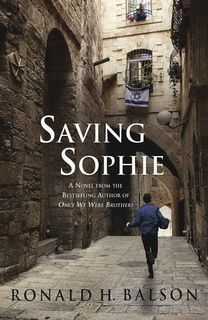 Saving Sophie (Liam Taggart and Catherine Lockhart 02) by Ronald H. Balson
From Ronald H. Balson, author of Once We Were Brothers, Saving Sophie is the powerful story of the lengths a father will go through to protect his daughter and an action-packed thriller that will take you on an unforgettable journey of murder and deception, testing the bonds of family and love.
Jack Sommers was just an ordinary accountant from Chicago-that is, until his wife passed away, his young daughter was kidnapped, and he became the main suspect in an $88 million dollar embezzlement case. Now Jack is on the run, hoping to avoid the feds long enough to rescue his daughter, Sophie, from her maternal grandfather, a suspected terrorist in Palestine. With the help of investigative team Liam and Catherine, and a new CIA operative, a secret mission is launched to not only rescue Sophie but also to thwart a major terrorist attack in Hebron.
But will being caught in the crossfires of the Palestine-Israeli conflict keep their team from accomplishing the task at hand, or can they overcome the odds and save countless lives, including their own?
Book Formats:
EPUB
The format can be read by the Kobo eReader, BlackBerry devices, Apple's iBooks app running on Macintosh computers and iOS devices, Google Play Books app running on Android and iOS devices, Barnes & Noble Nook, Amazon Kindle Fire,Sony Reader, BeBook, Bookeen Cybook Gen3 (with firmware v2 and up), Adobe Digital Editions, Lexcycle Stanza, FBReader, PocketBook eReader, Aldiko, the Mozilla Firefox add-on EPUBReader, Lucifox, Okular and other reading apps.
MOBI
Amazon Kindle and compatible devices.The Kindle format is available on a variety of platforms, such as through the Kindle app for the various mobile device platforms.
Stock:

In Stock

Reward Points:

1

SKU:

BLSRND02

ISBN:

9781250065858
Balson Ronald H
0 books sold
Product Views: 338
Ex Tax: 0.99€
Price in reward points: 20