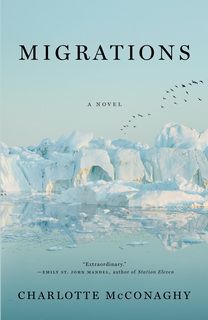 Migrations by Charlotte McConaghy
Franny Stone has always been a pilgrim. By following the ocean's tides and the birds that soar above, she can forget the losses that have haunted her life. But when the wild she so loves begins to disappear, Franny can no longer wander without a destination. She arrives in remote Greenland with one purpose: to find the world's last herd of Arctic terns and follow them on their final migration. She convinces Ennis Malone, captain of the Saghani, to take her onboard, winning over his savory, eccentric crew with promises that the birds she is tracking will lead them to fish.
As the Saghani fights its way south, Franny's new shipmates begin to realize that the beguiling scientist in their midst is not who she seems. Battered by night terrors, accumulating a pile of letters to her husband, and dead set on following the terns at any cost, Franny is full of dark secrets. When the story of her past begins to unspool, Ennis and his crew must ask themselves what Franny is really running toward—and running from.
Book Formats:
EPUB
The format can be read by the Kobo eReader, BlackBerry devices, Apple's iBooks app running on Macintosh computers and iOS devices, Google Play Books app running on Android and iOS devices, Barnes & Noble Nook, Amazon Kindle Fire,Sony Reader, BeBook, Bookeen Cybook Gen3 (with firmware v2 and up), Adobe Digital Editions, Lexcycle Stanza, FBReader, PocketBook eReader, Aldiko, the Mozilla Firefox add-on EPUBReader, Lucifox, Okular and other reading apps.
MOBI
Amazon Kindle and compatible devices.The Kindle format is available on a variety of platforms, such as through the Kindle app for the various mobile device platforms.
Stock:

In Stock

Reward Points:

1

SKU:

AMZBSL15

ISBN:

9781250204011
0 books sold
Product Views: 244
Ex Tax: 0.99€
Price in reward points: 20